How I spent the Summer of 2020

By Malcolm "Mac" McAdam of Detroit Lodge No. 7






x


The picture to the right is of an old antique ships anchor that was uncovered in the city of Detroit while contaminated soil was being removed to prepare for a new park along the Detroit River.

The anchor was found 25 feet underground, over 100 ft from the river. The anchor was heavily rusted and the wood cross-stock had long since disintegrated. The anchor shank is 8 1/2 ft long and weighs about one ton. It is thought to be from the early 1800's as they started using the more practical steel cross-stocks in the 1820's.

The anchor was laying out in the open in a secluded section of Detroit. I was concerned that the "scrappers" would remove it by sun-up. So I made some calls to find out the plans. There were no plans and no room in the budget to do anything with it. That being the case I made some suggestions and the next thing I knew, I was a one-man team to refurbish the anchor to its original appearance with no budget.

So during the months of June, July, and 2/3rds of August I practiced pandemic isolation refurbishing the anchor out in the open often while it was 90 degrees or more. Drank lots of fluids. The anchor had to be descaled, sandblasted, chemically rust treated, filled, and finish coated. Likewise for the 1000 lbs of chain.

Then there was the cross-stock to design and fabricate. Originally they were made of white oak. I needed five planks that were 2+" X 10" X10 ft.. Lumber yards wanted upwards of $4000 for such large planks. I found them at our yacht club where we had slabbed some fallen oak trees at a cost of less than 1/10th that price. These had to be shaped, planed, filled, glued, screwed, sealed and bolted together. To finish the stock, custom fitted steel bands were welded and ground smooth. Lastly it was sanded, sealed, and finish coated with many coats of marine spar varnish.

Finally it was finished and time to place it in the park. The park designer was not a boating person and wanted to place it out in the grassy lawn. I refused. I said that the cement pad that was designed for some benches would be perfect. He said "No".

More planners were brought into the battle. Fortunately, they agreed with me. We then very carefully moved the anchor into place. The chain was wrapped around the shank with a couple loops for kids to sit in while getting their picture taken.

And that's what I did last summer.

Mac

PS: I would like to give recognition and special thanks to:
Jim Hogan & Sam Buchanan of Detroit Lodge No. 7 & J.W. Westcott Co. for storage, use of facilities and logistics.
Sam Buchanan of Detroit Lodge No. 7 &
Ford Yacht Club for my source of White Oak
Dearborn Congregational Church for use of their garage as my shop
Larry Rybski of L & R Sandblasting for blasting and coatings
Bill Griffore of Detroit Lodge No. 7 for welding service
Ethan McAdam for assembly and grinding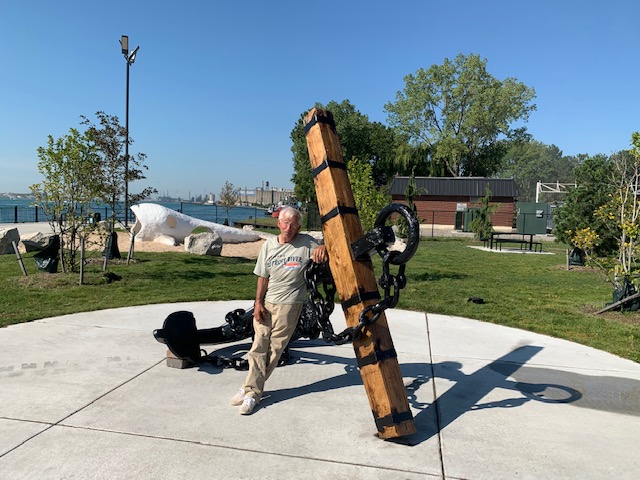 Copyright © 2020 International Ship Masters' Association Detroit Lodge No. 7, Inc.
All Rights Reserved